---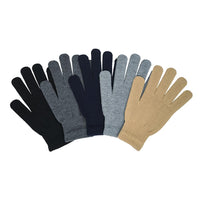 Sale
Winter Gloves - Tech Approved
Where would we be without hands? For any time yours need protection against the elements, winter gloves are a must-have when the weather turns chilly.
Lightweight and stretchy, our winter gloves are just the thing for people who live active lifestyles.
Soft, knit winter gloves are ideal for casual wear, exercise, running errands, and so much more.
The simple styling of our winter gloves means that they'll coordinate with virtually any outfit.
Wear them with just about anything from sweaters to pea coats to puffer jackets.
The material keeps your digits warm, all without restricting movement.
These gloves are practical, and tech approved. You don't have to fuss with taking them off to text or receive a call. No more frigid fingers.
Gloves not only keep your hands warm, they also help prevent dry skin and chapping.
Winter gloves come in handy no matter if you live in an urban, suburban, or rural setting.
The 12-pack contains classic colors like black, grey, navy and tan that will go with everything you own. Whether you choose to match the color or wear a contrasting hue is up to you.
Because you get a dozen pairs, you can stow a pair of winter gloves in the pockets of all your outwear so you never get caught short.
Our winter gloves are unisex and fit virtually everyone.
Winter gloves aren't just for winter. They're light enough that they won't make you overheat. Put them on any time you want to protect your hands.
Because life is stressful enough, you need simple accessories. Just pull on these cozy winter gloves and go.
You don't have to think about sizing either. One size fits most.
The premium knit fabric offers an exception feel and fit, and is very durable.
Like all of our low-maintenance apparel, these knit gloves are machine washable.
Fun and functional, our winter gloves are friendly to your skin and your budget.
Perfect for everyday wear, the lightweight, stretchy fabric never gets in your way.
With the economical 12-pack, you'll always have at least one pair to wear.
Winter gloves are the kind of thing everyone can use. If you don't need the extras, share them with your friends and family.
Winter gloves make a great stocking stuffer!